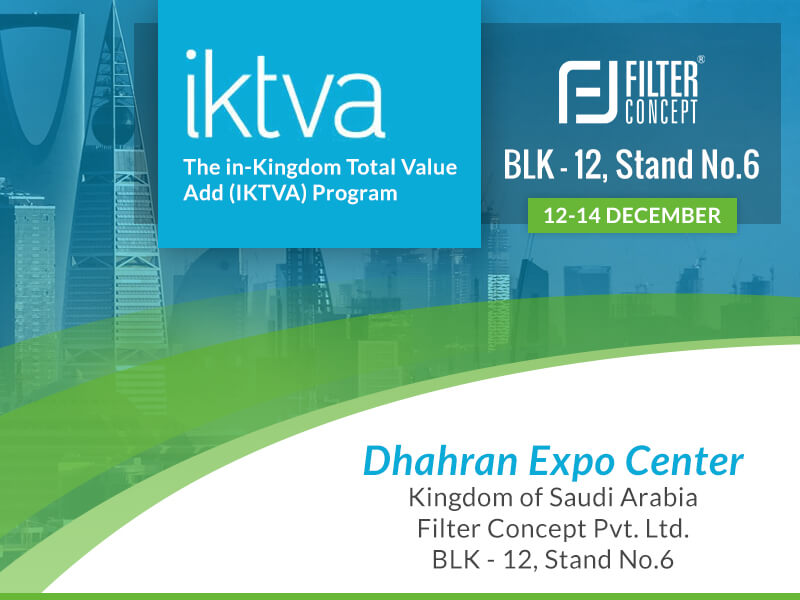 About IKTVA
The In Kingdom Total Value Add (IKTVA) Program is the brain child of Saudi Aramco. It is designed to generate value in each phase of business, utilizing long-term financial development and branching out to get a wider reach. IKTVA has been launched to drive added local value creation to keep up to speed with a fast varying economic.
Intended to intensify the determinations of partners and investments involved in the development of Saudi Arabia's development – today and tomorrow – IKTVA was developed after years of research and development, both within the Kingdom and transnationally.
About Filter Concept
To utilize this opportunity and build further on its wide network of multinational clientele, Filter Concept has also decided to participate in IKTVA 2017. We offer wide-ranging percolation technology solutions for numerous filtration requirements of air, gas and liquid to almost all industries like Oil and Gas, Petrochemicals, Pharmaceuticals, Steel and Power, Cement, Formulations, Fertilizers, Textile, Paints and Inks, Chemicals, Mines and Mineral, Electronics, Water Treatment, and many others.Filter Concept's products abide by worldwide quality standards of manufacturing and meet ISO 9001 standards and the intercontinental design standards like ASME, DIN, and BS Standards. Additionally, We have an already established, wide-spread supplier and distribution network in all main cities in India and across the globe. We have a sustainable customer base of 3500+ clients, which includes some of the best companies from India along with Intercontinental clients including many Fortune 500 Companies.
Filter Concept in IKTVA
To experience our entire product range, including our best-selling products like Coalescer, Separator, Filter Element, Filter Bags, Industrial Filter and Cartridges, Basket Filters, Hepa Filters, Gas Filters, Carbon Cartridges, and Dust Collectors, come visit Filter Concept at Stand No. 6 of Block-12 at Dhahran Expo Center, Kingdom of Saudi Arabia from 12th -14th December 2017.
Filter Concept welcomes you to IKTVA 2017.